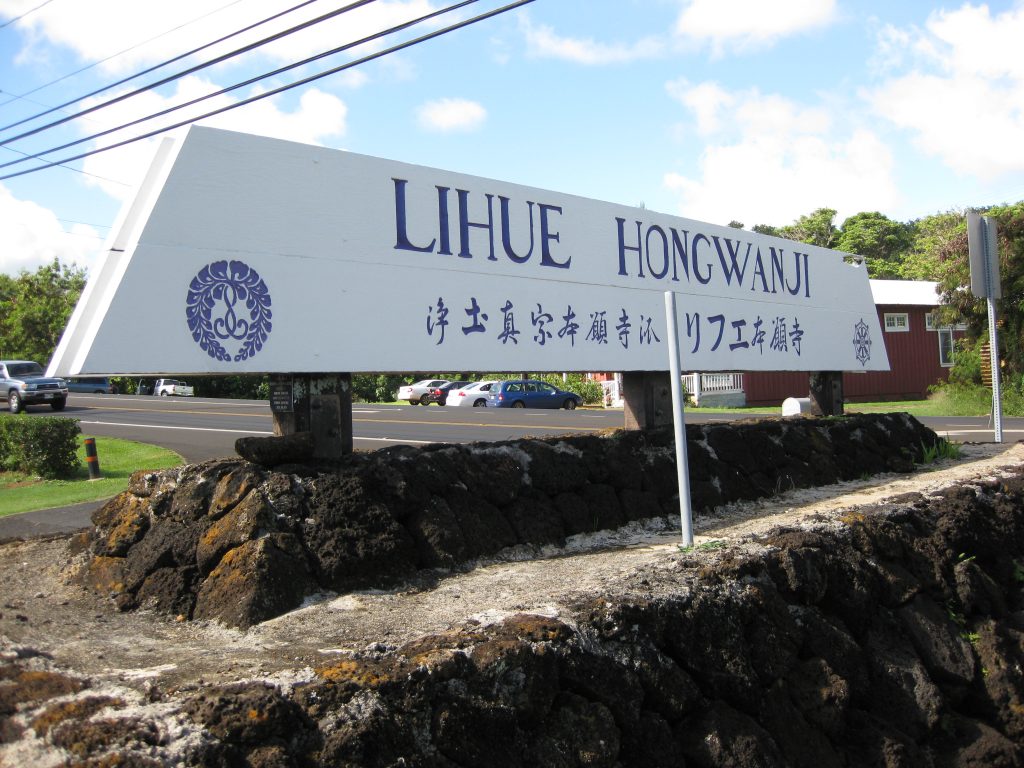 Services and Activities at Lihue Hongwanji
Aloha
Our Sunday services remain open with physical distancing practiced along with mask wearing, temperature taking and hand sanitizer available.  All words for chanting, recitations and songs are presented via technology so there is no need, currently, for service books, as a safety measure. We welcome all visitors.  Please follow all mandated guidelines.
The temple doors will remain closed but can be opened by Shaku Kaufmann on request.
The Columbarium is open from 8:00 am until 5:00 pm daily.  There is hand sanitizer in the Columbarium.  It is encouraged to have no more than two people in the Columbarium at one time.
Hand sanitizer is available in the minister's office and visitors are strongly encouraged to practice social distancing (remain six feet apart) if they need to be at the temple.
Bedside, end-of-life visitations, as allowed by the facility or virtually as needed.
It is requested that memorial services be scheduled for June or later.
Funeral services will be scheduled, as needed, following the Social Distancing guidelines.
Ministerial counseling as needed, preferably via  phone or technology.
Please check on the calendar for service schedules and activities.
If you have any questions or concerns, please contact Shaku Kaufmann at the temple office (808) 245-6262, the parsonage (808) 245-4543, emergency cell number (808) 384-7521 or via email at [email protected].
We hope everyone stays safe and healthy.  Please keep the Nembutsu close to heart and mind as nothing can affect the wisdom and compassion of Amida or the working of his vow.  Namo Amida Butsu
Thank you all for your patience.  This is truly an example of impermanence and interdependence in real life.
Shaku Arthur Kaufmann
Resident Minister
Carol Valentine
President